Welcome to the Southern California Pingolf League
Fall Season Announcement
We're nearly ready to get started with our fall season! Please note the altered meeting time for our 3rd and final regular season meeting at Jim's. We'll be playing prior to the OC Pinball League meeting and Jim's annual halloween party. Party details will be provided closer to the october date. Registration is closed for fall (we're full, thanks everyone for signing up!) but if you'd like to get on our email list for future league seasons, fill out the form on the contact us page.
General League Info
The SCPGL season consists of three nine hole rounds of pingolf over three separate meeting/qualifying dates followed by a playoff round for top scorers. There are no anticipated rule/format changes for the fall season.
For more information about pingolf scoring, our playoff format or the rules in general, please see the League Rules page.
Registered Players
Paul S
Jay C
Tim M
Karl D
Brian B
Sarah B
Mark B
Johnny M
Kira P
Pat C
Jordan C
Adam B
Laura S
Brent S
Jonathan B
Luca V
Kyle S
David O
Mark S
Matt Y
Jack T
Cecilia C
Kenny H
Rick A
League Shirts
Shirts are sold out. If there is enough interest expressed in the future I can re-open a teespring campaign.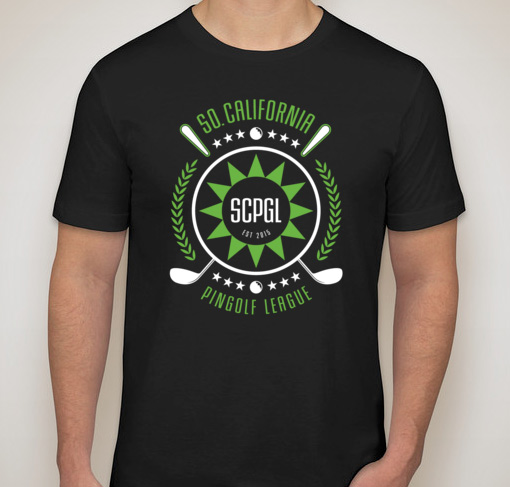 Fall 2016 Schedule
1st Qualifying Round
Saturday August 27th
Jay's place in Santa Ana
Practice at 12:30, league play to begin at 2PM
2nd Qualifying Round
Saturday September 24th
Karl's place in Fontana
Practice at 12:30, league play to begin at 2PM
3rd Qualifying Round
Saturday October 29th
Jim's place in Murrietta
Practice at 11:30, league play to begin at 12PM sharp!
Playoffs
Saturday November 19th
Tim's place in Huntington Beach
Practice at 12:30, finals to begin at 2PM
Season 2 results!
Congratulations to Karl for winning his second league title and congrats to Tim and Johnny for finishing 2nd and 3rd respectively. Detailed results are available over on the League Standings page.